4ft10 / 148cm Curvy Seductra
4ft10 / 148cm Curvy Seductra
FREE DISCREET SHIPPING
Note: CBS Kit & Care Kit are separate shipments.
I've got a name straight out of a comic book, an ultra-curvy fantasy body, and a sex drive to match. Call me Seductra. I prowl the dark recesses of your reality, just out of sight. You can often spot me out of the corner of your eye, but when you turn to look, I'm gone. When I allow you to see me, I make sure it's a spectacle. You'll see someone in the middle of the crowd, dancing to her own rhythm, surrounded but completely alone. Your eyes will meet mine, and a thrill will run down your spine. I'll whisper your name, and you'll know just what I'm saying, even though you're too far away to hear. You'll approach and I will embrace you. Your arms around my astounding hourglass figure, I will cradle you in my bosom. I ask you to take me home with you, and when we arrive, I ask you to invite me inside. You have to invite me. And why wouldn't you? I'm a premium quality, passionate TPE love doll. I have a body packed full of fantasy curves, with heaving, jiggling D-cup breasts, a tiny wasp waist, and a full, spankable ass. You can explore my soft and supple body at will. I have a built-in metal skeleton that support me, and allows me to get in to all kinds of erotic positions. I have every tool in the book to pleasure you. Abandon yourself to me and indulge in pure pleasure – I'll guide you, and bring you into my world, everlasting and perfect. Just invite me inside.
Seductra features head #193 and fantasy lifesize 148cm Curvy body with Tan skin and other Pre-selected options.
*Does not come with black fingernails as shown - Seductra will have pink french manicure fingernails.
---
Height: 4ft10 in / 148 cm Weight: 70 lbs / 32 kg

Click here for all measurements.
Need a lighter weight doll? Take a look at our 4ft7, 51 lb dolls HERE!
---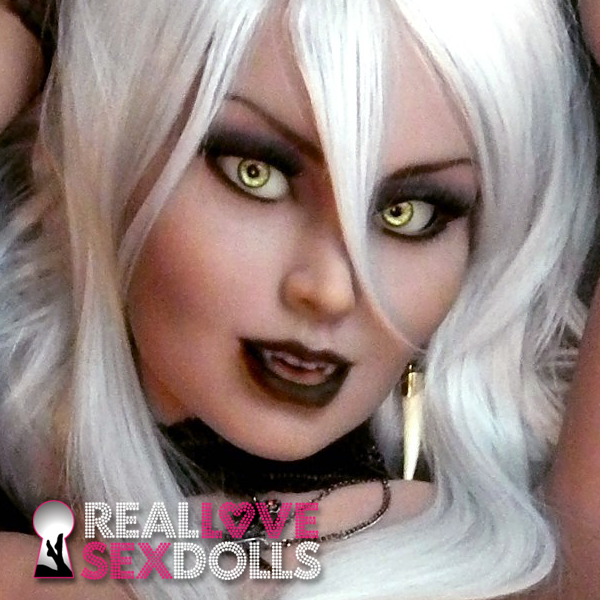 Like Seductra's face but would rather select your own body style and options?
No problem! Choose a body style to customize and opt for head #193 during your selections.
---
Delivery Estimate: 3-6 weeks (Made-to-Order)
Select your custom options
(Please Note: Color Settings On Monitors Vary, So Your Screen View May Vary Slightly from Actual Colors.)