4ft10 / 148cm Curvy Aphrodisia
4ft10 / 148cm Curvy Aphrodisia
FREE DISCREET SHIPPING
Note: CBS Kit & Care Kit are separate shipments.
I'm so glad you've invited me into your home. I feel so comfortable here. It's like I belong, as if all this stuff is familiar. It feels so natural. And you: I'm so at ease here, I feel like I can tell you anything. I can share my deepest, most private thoughts with you. Here's one – let me lean in and whisper into your ear. You belong to me now. I want you to start by taking off my clothing. It's not like I need to command you to do it. You want to follow my instructions. And why not? I'm a sublimely tempting TPE sex doll, with a figure made to seduce. I have extreme curves that will ensnare you – you won't want to take your eyes off me. My body feels so soft and realistic, you won't be able to tell the difference. My huge breasts wobble and move at the slightest touch, and my ripe and full bottom is big enough to rest a plate on! I can assume so many erotic positions – move me around as you desire, I love to fulfill your fantasies. Now come here. Quench your desire in my arms, and submit your will to me. Trust me, all that responsibility sucks anyway. I'll handle everything from now on!
Aphrodisia features head #193 and fantasy lifesize 148cm Curvy body with Tan skin and other Pre-selected options.
*Does not come with black fingernails as shown - Aphrodisia will have pink french manicure fingernails.
---
Height: 4ft10 in / 148 cm Weight: 70 lbs / 32 kg

Click here for all measurements.
Need a lighter weight doll? Take a look at our 4ft7, 51 lb dolls HERE!
---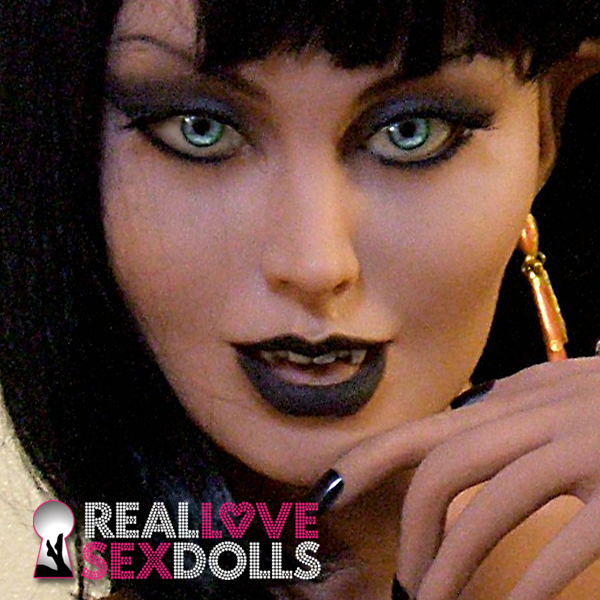 Like Aphrodisia's face but would rather select your own body style and options?
No problem! Choose a body style to customize and opt for head #193 during your selections.
---
Delivery Estimate: 3-6 weeks (Made-to-Order)
Select your custom options
(Please Note: Color Settings On Monitors Vary, So Your Screen View May Vary Slightly from Actual Colors.)