FREE DISCREET SHIPPING
Note: CBS Kit & Care Kit are separate shipments.
If you hear a knock on your door tonight, beware – there are things that roam this earth that are not meant to be seen. Lower your curtains and lock the windows. You'd be wise to ignore any pleas for help coming from outside; you cannot see from whence the cries come, and once you are close enough, it is far too late. Turn the double bolt, wrap yourself in a warm blanket, sit next to the fireplace, and pray to whatever you hold dear.
Unless it's Jinx knocking – if it's her, then by all means, throw open the door and invite her inside! She might be a little monster but she's a freak in the sack! Jinx knows things. She can do more with her little finger than the most seasoned courtesan has in her entire repertoire. So she might bite a little – it's totally worth it, dude! Jinx is a petite, busty goth temptress that will show you the time of your life. Her body feels exquisitely soft and supple. Her agelessly perky, perfectly formed D-cup breasts move and jiggle at their own accord. You can put her into any position and have your nasty way with her. Once you let Jinx inside, she'll make you her toy. Or was it the other way around?
What I'm saying here, is, basically – be careful, but don't be too careful!
Sex doll Jinx features WM Dolls™ 140cm D-cup body style and #160 head with Medium skin and other Pre-selected options. Like her sexy fangs and forked tongue? Select the Teeth & Tongue Set below in your custom options!
---
Height: 4ft7 in / 140 cm Weight: 51 lbs / 23.5 kg

Click here for all measurements.
Need a lighter weight doll? Take a look at our 3ft10, 41 lb dolls HERE!
---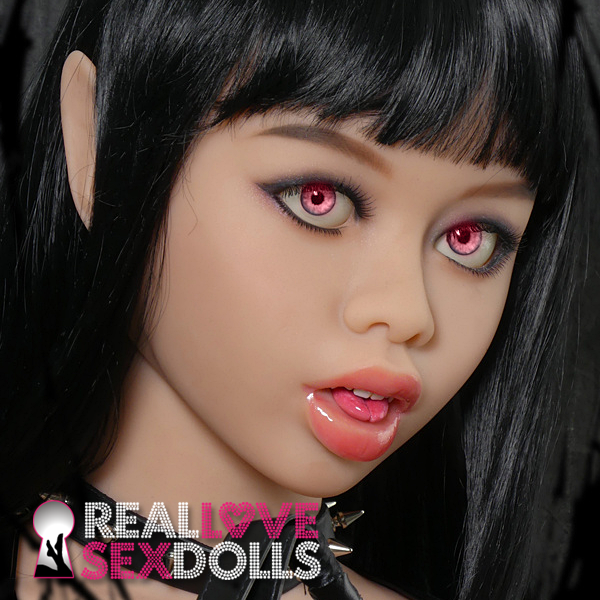 Like Jinx's face but would rather select your own body style and options?
No problem! Click to create a custom a sex doll and choose head #160 during your customization.
---
Production is Delayed due to the Chinese New Year Holidays Delivery is Expected Early to Mid-March* (*exceptions may occur)
Select your custom options
(Please Note: Color Settings On Monitors Vary, So Your Screen View May Vary Slightly from Actual Colors.)